Open Shoulder Stabilization In A Pro Football Player
Shoulder dislocations in contact athletes may need open shoulder stabilization in select cases due to the magnitude of the injury. Open stabilizations in contact athletes have been shown to have a lower recurrent dislocation rate. This patient underwent open shoulder stabilization, and has made an excellent recovery in 6 months.
Posted with patient permission
Bursitis Of The Elbow Treated With Arthroscopic Bursectomy
A bursa is fluid filled sack that can get inflamed and filled with fluid. In olecranon bursitis, the inflamed bursa is removed arthroscopically. Arthroscopic elbow bursectomy is a minimally invasive technique that avoids long healing times required of open bursectomy.
Posted with patient permission
TENEX Procedure
for Tennis Elbow
Tennis elbow is a tendon problem on the outer aspect of the elbow. Treatment varies from physical therapy to surgery. This patient underwent a minimally invasive procedure called a TENEX procedure. A small needle with an ultrasonic device at its tip is inserted with ultrasound guidance to the damaged tendon tissue where it is removed. There is usually no downtime and recovery is fairly rapid.
Posted with Patient permission
The Latarjet Procedure for Recurrent Shoulder Dislocations - A Brief Overview
Endoscopic Subpectoral Biceps Tenodesis


PRP Prep using the Emcyte system


Treatment Of Shoulder Separation (AC Joint Separation)
A patient who had a shoulder separation under went AC joint reconstruction or CC ligament reconstruction surgery. Three months later he has excellent function with correction of the separated AC joint.
Back To Work In 6 Weeks After Robotic Assisted Total Knee Replacement.
Robotic knee replacements offer the advantage of minimizing the surgical trauma. The implant is placed in the perfect position with a precision of less than 1mm on a computer screen before a single incision is made on the patient. Once Dr. Seneviratne is satisfied with the implant position, the robot makes precise cuts in the bone to allow implantation of total knee replacement with less surgical trauma allowing rapid recovery and earlier return activities of daily living and occupation. Note that this anecdotal information as research studies are on-going to define the merits of robotic assisted knee surgery.
Left Partial Knee Replacement For Single Compartment Osteoarthritis Of The Knee.
Dr. Seneviratne Featured On CBS News For His Groundbreaking Work On The Use Of Stem Cells To Enhance Rotator Cuff Healing
Stem cells have great potential to enhance and accelerate healing of rotator cuff tears and decrease the incidence of re-tears. See how stem cells worked wonders for this patient who underwent rotator cuff repairs in both shoulders.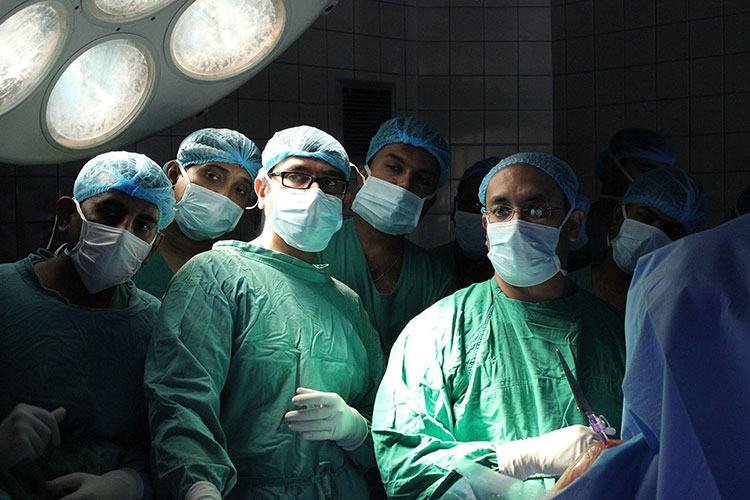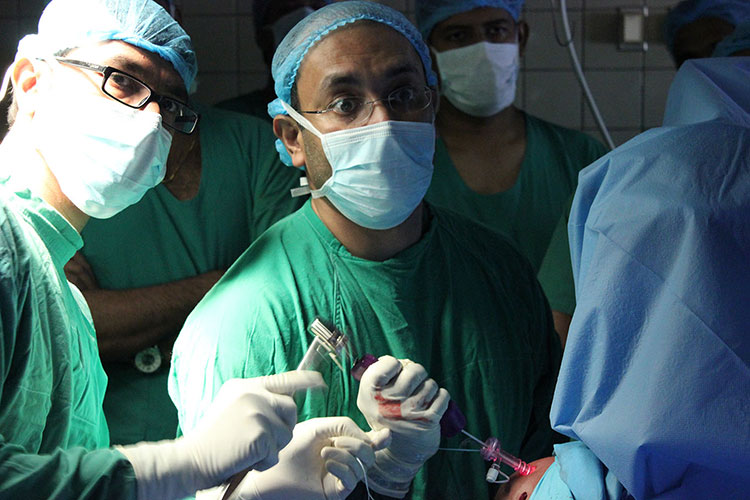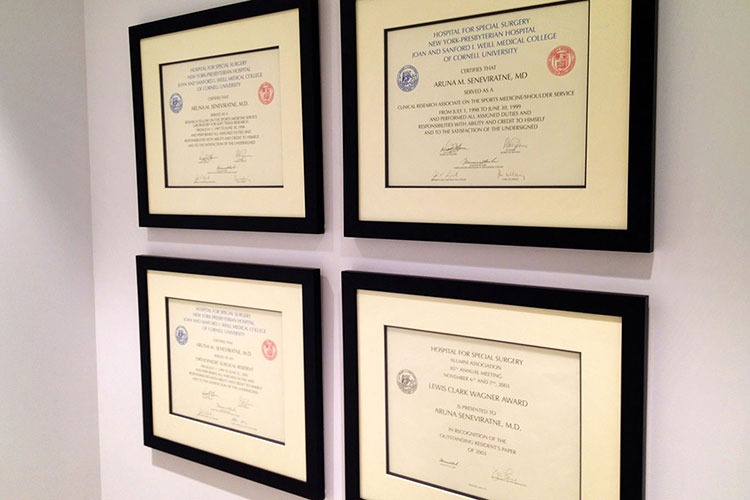 AMS-Operating-Shoulder-surgery-workshop
Dr. Seneviratne conducting and arthroscopic shoulder surgery workshop
AMS-Operating-Shoulder-surgery-workshop2
Dr. Seneviratne conducting and arthroscopic shoulder surgery workshop