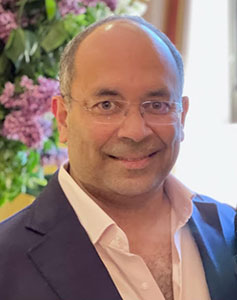 Dr. Seneviratne is a fellowship-trained orthopedic surgery specialist who specializes in disorders of the shoulder, knee, and elbow joints as well as all sports injury treatment. He utilizes advanced open and arthroscopic surgical techniques to restore damaged joints, ligaments, and bones. He has authored several peer-reviewed, scientific articles and book chapters. His academic work has been presented nationally and internationally at several specialty meetings.
Born in Sri Lanka, Dr. Seneviratne grew up in Southern California. He received his undergraduate degree from the University of California and his medical degree (MD) from New York Medical College. He was the recipient of the Lewis Clark Wagner Award for Excellence in Orthopedic Research during his orthopedic residency at the prestigious Hospital for Special Surgery. He received his fellowship in sports medicine from Lenox Hill Hospital where he participated in the care of athletes from the New York Jets, New York Islanders and Hofstra University athletic teams. Currently he serves as a team physician for local New York City schools. He is currently part of the team caring for athletes of the US Open Tennis Championship.
He also received additional training in complex shoulder problems as well as articular cartilage injuries in his traveling fellowship to Harvard University, Rush University and the San Antonio Orthopedic Center.
Prior to his faculty appointment as associate professor of Orthopedic Surgery at Mount Sinai Hospital and Medical School, Dr. Seneviratne was a core member of the Lenox Hill Hospital Orthopedic Residency program and Sports Medicine Fellowship.
Through clinical research Dr. Seneviratne has pioneered several procedures of the shoulder and knee. One such procedure is the endoscopic assisted subpectoral biceps tenodesis. This procedure used to be performed in an open manner with a large incision to attach the long head of the biceps tendon to the humerus bone under the pectoralis tendon. While the results of this procedure were excellent, the morbidity of the operation meant a lengthy recovery period. Through meticulous dissection studies Dr. Seneviratne has pioneered performing this same operation with a 7mm incision with the use of the endoscope. The result is alow morbity, rapid recovery procedure used to treat problems of the biceps tendon and labrum.
Dr. Seneviratne is deeply committed to the education of the next generation of orthopedic surgeons. He is a faculty member of the Mount Sinai Orthopedic Residency program educating young surgeons. He has educated and trained over 100 residents and sports medicine fellows over the span of his career. He is also committed to educating orthopedic surgeons from his native Sri Lanka by conducting arthroscopic shoulder surgery workshops and pro-bono surgery for needy patients in Sri Lanka.
Dr. Seneviratne and his wife have 2 children and live in New York where they are actively involved in charitable causes. He enjoys travel, hiking, and motorsports. He is fondly known to many of his patients as "Doctor Aruna".
Specialty
Orthopaedic Surgery
Sub Specialty
Sports Medicine
Team Coverage
Team Physician – US Open Tennis Grand Slam Championship
Undergraduate Education
BS: 1990
University of California, Riverside
Medical Education
MD: 1995
New York Medical College
Residency
Residency, Orthopedic Surgery: 1999 – 2003
Hospital for Special Surgery, New York NY
Fellowships
James A Nicholas Fellowship in Sports Medicine: 2003 – 2004
Lenox Hill Hospital
Clinical Research Assistant: 1998 – 1999
Hospital for Special Surgery, Dept of Sports Medicine
Research Fellow: 1997 – 1998
Hospital for Special Surgery, Lab for Soft Tissue Research
Board Certifications
Subspecialty Certification – Sports Medicine: 2008, recertified through 2028
American Board of Orthopedic Surgery: 2007, recertified through 2028
Affiliations
American Orthopaedic Society for Sports Medicine (AOSSM)
Arthroscopy Association of North America (AANA)
New York State Troopers PBA Surgeon
Fellow American Academy of Orthopaedic Surgeons (AAOS)
Honors and Awards
Lewis Clarke-Wagner Award for Outstanding Resident's Paper – Hospital for Special Surgery: 2003
NY Magazine Top Doctor in Sports Medicine 2013-2021