MAKOplasty® Partial Knee Replacement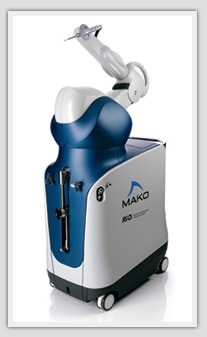 MAKOplasty® partial knee replacement, or partial knee resurfacing, is a minimally invasive procedure for those suffering with painful early to mid-stage osteoarthritis of the knee. It is performed using the surgeon-controlled RIO® robotic arm system and offers more accurate resurfacing of the diseased portion of the knee, saving as much of the original knee as possible.
As a partial knee surgery, MAKOplasty can be performed on either the medial (inside) compartment, patellofemoral (top) compartment, or the lateral (outside) portion of the knee. It can also be performed as a bicompartmental procedure on both the medial and patellofemoral portions of the knee.
In many cases, patients are permitted to walk soon after surgery, drive a car within two weeks and return to normal daily activities shortly thereafter.
The Use Of This Highly Advanced Robotic Arm Technology Can:
Enable surgeons to accurately resurface the arthritic portion of the knee and preserve healthy tissue and bone
Facilitate optimal implant positioning to result in a more natural feeling knee following surgery
Result in a more rapid recovery and shorter hospital stay when compared to traditional total knee replacement surgery
Promote a rapid relief from pain and return to daily activities
The RIO robotic arm system assists the orthopedic surgeon in several ways. First, it provides patient-specific three dimensional modeling for pre-surgical planning. Then, during the procedure, the combination of the robotic arm and stereo tracking technology provides the surgeon with real-time visual, tactile and auditory feedback, enabling reproducible precision and optimal positioning of the implant(s) within the knee. It is this level of accuracy that facilitates optimal implant positioning and alignment to result in a more natural knee motion following surgery.
Although the best treatment for each patient must be determined individually, typical MAKOplasty patients share the following characteristics:
Knee pain with activity, usually on the inner knee, under the kneecap or the outer knee
Start up knee pain or stiffness when activities are initiated from a sitting position
Failure to respond to non-surgical treatments or non-steroidal anti-inflammatory medication
Like other knee arthroplasty procedures, MAKOplasty is typically covered by most Medicare-approved and private health insurance providers. Please speak with your physician to determine if MAKOplasty may be the right treatment option for you.
Related Brochures
Frequently Asked Questions